Has time traveled from the year 4020 where the world was not safe for him anymore.
He was able to steal a newly developed time machine to escape to the present.
He has came to this period in time because modified beings like him are excepted in society.
Also there are no laws against robots... Yet!
Now here in the 2000's he shows his ablitiy to over come pain & push the body to the extreme.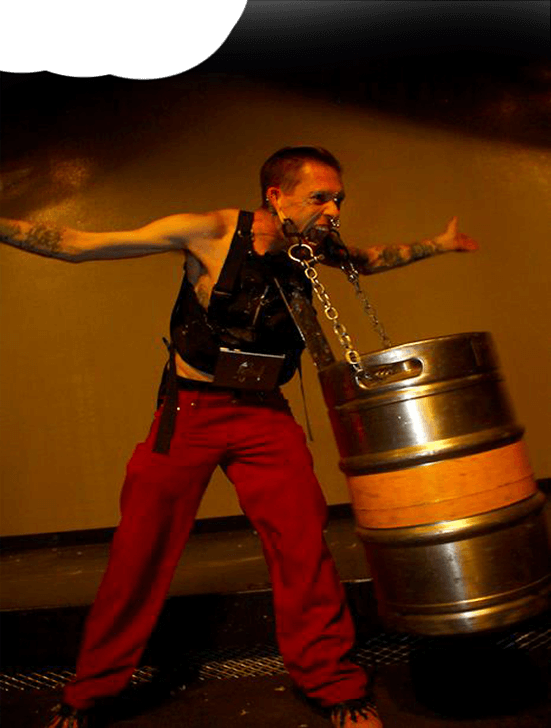 Have performed at 100's of events across the US.
At Metal, Punk, Industrial & Goth events. As well as festivals, conventions art shows, fairs, weddings, birthday parties, costumed/ themed events, private parties, haunted houses, grand openings & busked on the street. Also for charities & fundraisers for all kinds of organizations.
Events performed at:
Have opened for the Headlining tour troops The Show Devils with The Enigma & The Oh No! Variety Show with Boobzilla.

Nationally known for performing at The Denver County Fair 2011. Mentioned in over 250 newspapers also on NPR.org, NBC, CBS, FOX News & Late Show.

Denver County Fair, Denver Comic Con, Industrial Arts Fest, Black Hawk Station Casino, Rapture art show, Hardcore For Hunger, Colorado Fear Fest Haunt, Eleventh Hour, Synth React Death Reawakening, Stunt Battle to the Death w Oh No Variety Show, Exile, 3 Kings w The Show Devils, As Strange As It Seems w The Oh No Variety Show, Realities Ride, Ominous Farewell to the Flesh, Devilishly Delightful (Casper WY), Larimer Art Blitz, Dark Expo (Code 13), AnomalyCon, Circus of Fear 3D, Port Collins Zombie Crawl & even a wedding receptions.


Hire him to Perform, Host, Emcee or Dj